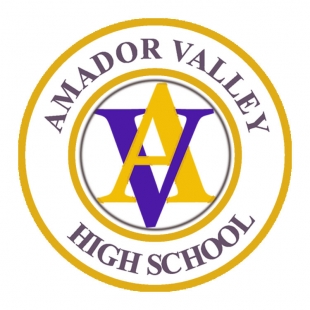 Home of the Dons
Amador Valley High School's mission is to provide students with the essential skills for lifelong learning and achievement, and to nurture responsible citizens who contribute to society intellectually, creatively, and compassionately.

Amador Valley High School is a comprehensive public high school in Pleasanton, California, United States, a city east of San Francisco in the outskirts of Silicon Valley. The school was founded as Amador Valley Joint Union High School (AVJUHS), which graduated its first class in 1923. The school has been named a California Distinguished School, a National School of Character, and a National Blue Ribbon School. Amador Valley is one of many high schools in the Pleasanton Unified School District, along with Foothill High School.

As of 2009, Amador Valley offered its 2,500 students 20 Advanced Placement courses, 23 varsity sports, a program to study local aquatic wildlife, and vocational training. A monthly school publication, the Amadon, reports on athletics, academic and extracurricular issues, and news of the school and community. Amador's location allows it to be the launching point for parades and to host the site of the Amador Theater, Pleasanton's central performing arts facility for more than 60 years. The Amador Theater has remained a part of the Amador Valley campus since the 1930s, despite major school construction in 1968, 1997, and 2004. Amador is the rival of Foothill High School, across town.

Student groups, including the Marching Band, Cologuard, Competition Civics, TSA, DECA, Math Team, and many more, have toured out-of-state after achieving high rankings in California competitions. In national competitions such as We the People: The Citizen and the Constitution, the Amador Valley team has ranked in the top four places from 1994 to 1996, 2006 to 2009, 2011, 2013, and 2014. Similarly, the Amador Valley Robotics Team, AVBotz, is recognized nationally as the best performing high-school team in the autonomous underwater vehicle (AUV) competition hosted by the Association for Unmanned Vehicle Systems International (AUVSI). The Amador Valley High School Engineering Department is home to the PLTW Engineering pathway along with the Technology Student Association (TSA), TARC Rocketry Club, Engineering Club, and VEX Robotics Team. The Amador VEX Robotics Team, known as Avengineers, has hosted VRC competitions at Amador Valley. 24 teams from  California's Bay Area competed to qualify for States and for  competition awards.